Highlighted Black Marketers
Weekly Highlighted Talented Black Marketers
Jean Samedi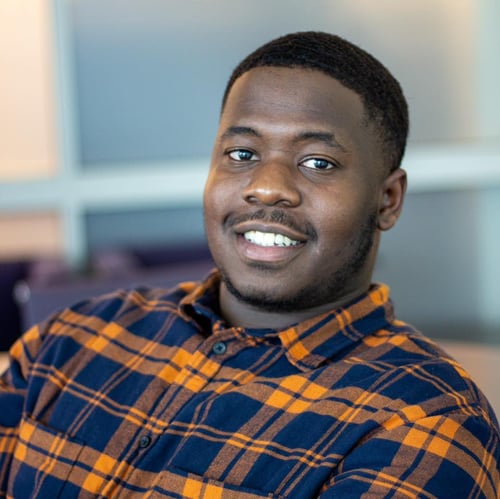 Born in Port-au-Prince, Haiti, I embarked on a remarkable journey that would ultimately shape a future brimming with creativity, entrepreneurship, and a relentless pursuit of success. At the age of three, my father embarked on a life-altering journey to the United States. Leading us to settling in Brooklyn, NY. I began to carve out my path in a land filled with endless opportunities.
My academic journey brought me to the renowned University of Connecticut, where I studied Marketing Communications and Studio Arts. It was during these formative years that a passion for creativity ignited, and started honing my skills in the realms of film and photography. This passion would soon evolve into a flourishing career.
I found myself drawn to the world of music and business. I began collaborating with various musical artists and enterprises, providing them with creative services such as film, photography, and graphic design. This venture allowed me to explore the power of visual storytelling and its impact on marketing and branding.
Intrigued by the intersection of creativity and business, I decided to take a detour in my career path and relocated to Saint Louis, Missouri. Here, I immersed himself in the world of sales and marketing, seeking to gain a deeper understanding of marketing from a business standpoint. This invaluable experience would later prove to be a pivotal step in my journey.
After my stint in Saint Louis, I returned to Connecticut once again. Focusing on digital marketing, initially I took on the role of a digital marketing manager for a Broadway theatre. This role offered me insights into the unique challenges of marketing within the entertainment industry.
Subsequently, I transitioned to a digital marketing specialist role at a local credit union, expanding my skill set and deepening my understanding of financial marketing. This diverse experience laid the groundwork for the next significant chapter in my life.
I founded High Quality Ads and Media, a digital marketing agency dedicated to assisting small and medium-sized businesses in expanding their reach through digital advertising. With a mission to provide top-tier services while elevating our clients' online presence, HQA Media quickly formed a path of its own.
We are aiming to become a trusted partner for all businesses looking to thrive in the digital landscape. Our innovative strategies and commitment to excellence sets us apart in a competitive market.
My journey from Port-Au-Prince to becoming a respected entrepreneur and digital marketing expert serves as a testament to the power of passion, creativity, and unwavering determination. With a background in communication, arts, sales, and entrepreneurship, I hope to continue making a lasting impact in the world of digital marketing and beyond.